Tecumseh, Ontario (519) 979-5229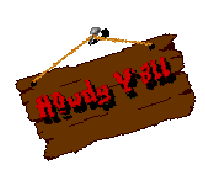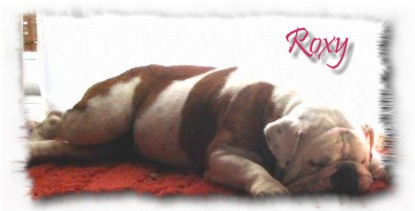 Roxy is now retired
Click here to see Roxy & Bear's puppies born Feb 18,2007
Click here to see Roxy & Bosco's puppies born May 23, 2006
Click here to see pictures of Roxy and Winston's puppies born Sept.11, 2005

Our Girls
Hickson's Naughty Lola Meere was born April, 24, 2006,

We are expecting puppies from Lola & Diesel, Spring 2009
OUR NEWEST EDITION!!!!!!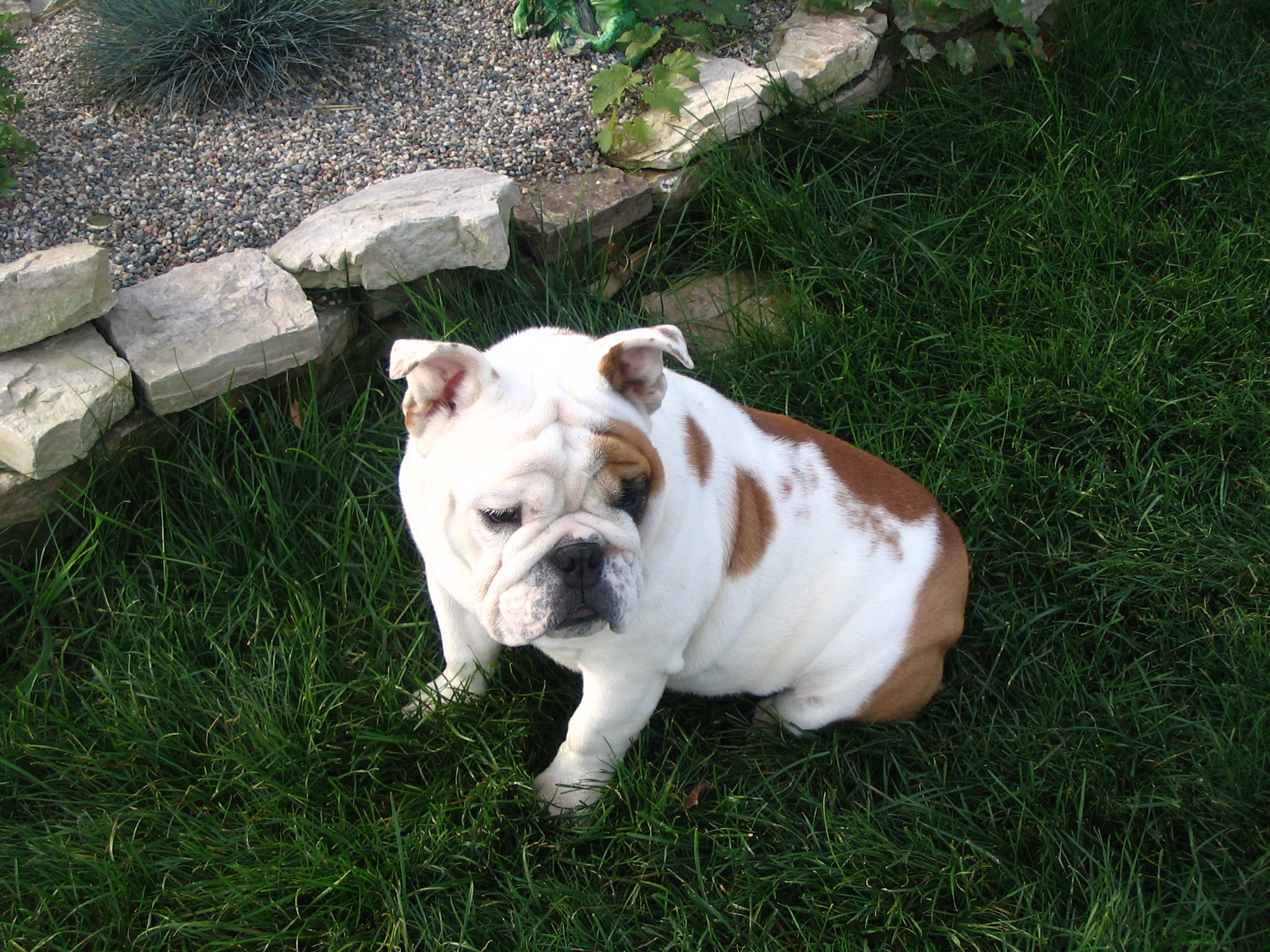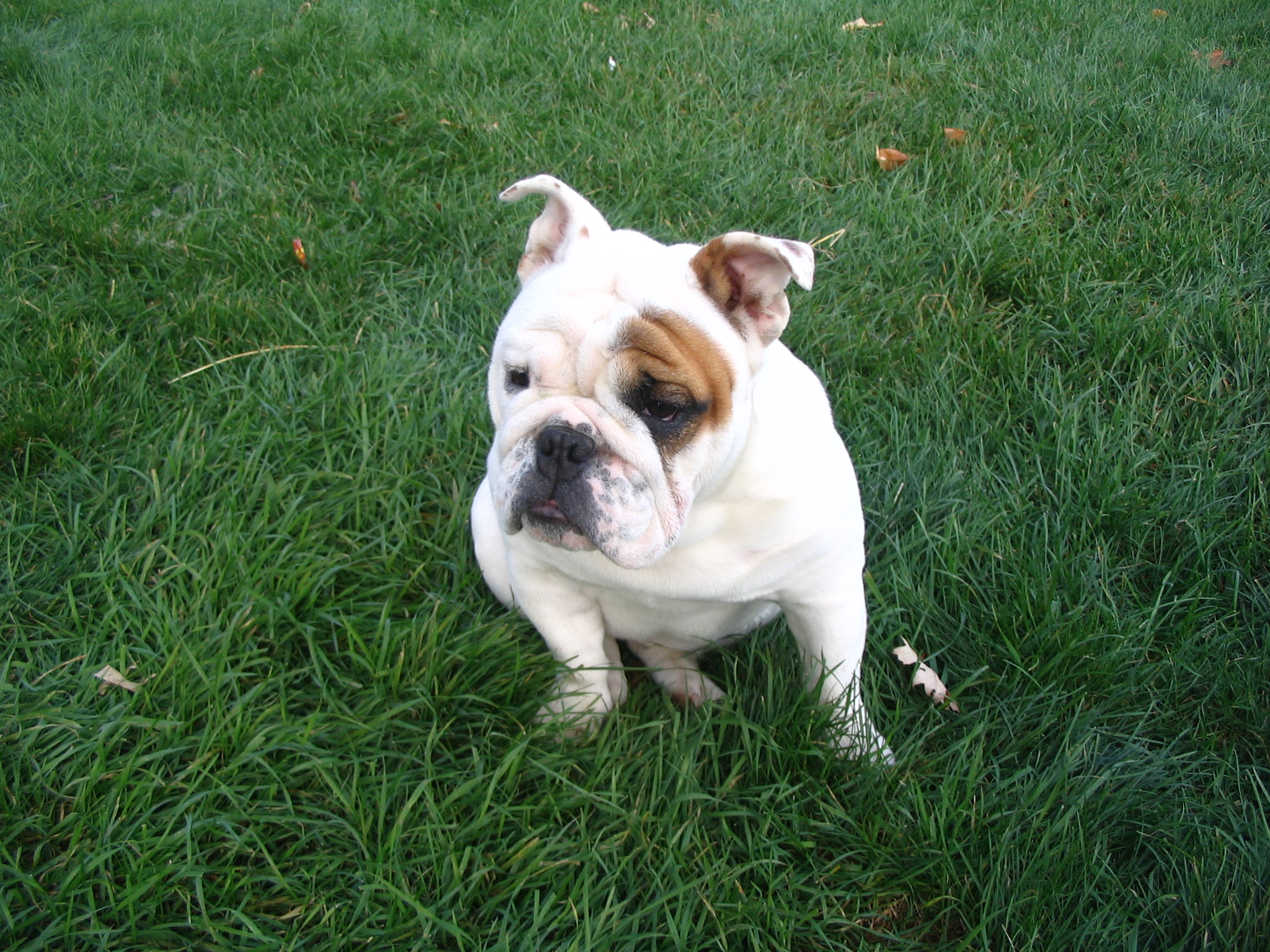 Meere's Sweet Georgia Peach is the daughter of Roxy & Bear!
Geogia was born Feb.18, 2007 Check back for updates on Georgia.

Stud Dogs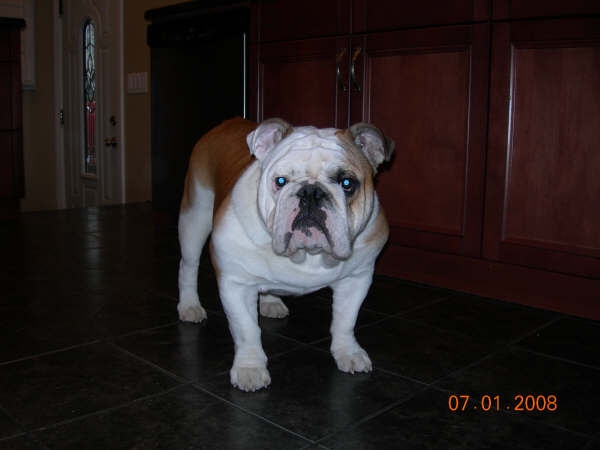 Oliver
Meere's Oliver St. Louis (Oliver) is the son of Roxy & Bear and also Georgia's brother. Oliver was born February 18, 2007 and he has just joined our breeding program. Oliver is available for stud service to approved bitches.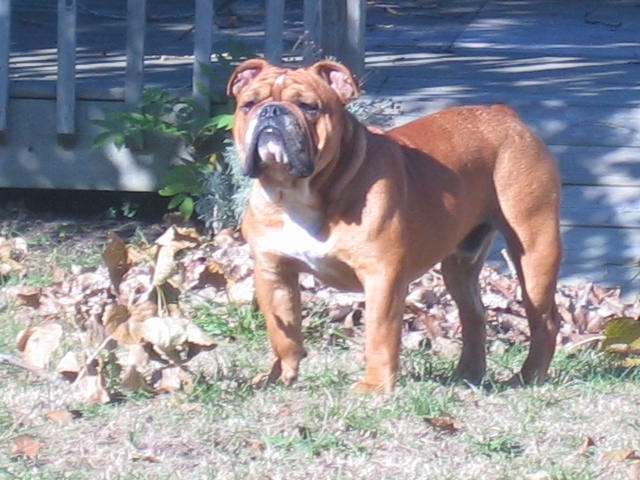 Diesel
Meere's Deisel Tank Engine (call name Deisel) is the son of Roxy & Winston, and he has proven himself as a worthy stud dog. Deisel is owned by Tammy, and he is available for stud services to approved bitches, please contact me for info.

About Us
We are a small home based breeder of English Bulldogs located in Tecumseh, Ontario (just outside Windsor, Ontario and minutes from the Windsor/Detroit border). We occasionally have quality puppies available to responsible, loving homes. All of our puppies are raised underfoot with lots of love and affection, our puppies are bred from champion bloodlines to ensure that healthy, beautiful purebred bulldogs are born.
Upon choosing a bully baby from us you will receive with your puppy:
Canadian Kennel Club registration

1 Year health guarantee

Complete vet check / first vaccinations

Microchip

Of course a healthy, happy bulldog puppy!!!


View My Guestbook
Sign My Guestbook
Sign my guestbook and I will be sure to reply!!!
<!--- Begin
Jim & Jennifer Meere
(519) 979-5229

<!----MY_PET_DOG_AWARD---------DO_NOT_ALTER--BELOW_LINE----------->

<style type='text/css'>
<!--a.mypettp4:link,
a.mypettp4:visited, a.mypettp4:hover {color : #ccccff; font-style : normal;
font-family : verdana,arial; font-size : 8px; text-decoration : none; }
a.mypetlink05:link, a.mypetlink05:visited, a.mypetlink05:hover {color
: #990066; font-style : normal; font-family : verdana,arial; font-size : 14px;
text-decoration : none; } .txtmypet4 {font-family : verdana,arial; font-size
: 8px; color : #ccccff; font-style : normal; } .petlink06 {font-family :
verdana,arial; font-size : 11px; color : #990066; font-style : normal; }
.style1 {color: #CC00CC}
.style3 {color: #460d7f; font size:14px;}
a:link {
text-decoration: none;
}
a:visited {
text-decoration: none;
}
a:hover {
text-decoration: none;
}
a:active {
text-decoration: none;
}
.style5 {color: #460d7f; font-size: 9px; }
.style6 {font-family: Arial, Helvetica, sans-serif}
.style7{color: #460d7f; font size: 10px;}
-->
</style>
<table width='175' height="135" border='0' cellpadding='0'
cellspacing='0'>
<tr>
<td
height='10' align='center'
class='petlink06 style1'><a href="http://www.petsuppliesplace.com/"class='style3'>Dog</a><span style="color: #460d7f"><font style='font-size:14px'
face='Verdana,Arial'> WebMaster Award</font></span></td>
</tr>
<tr>
<td height='115'
background='http://www.mypetoutlet.com/website_awards/images/dog_website_award_11.gif'
valign='middle' align='center'
style='padding-bottom:10px;'><p>
<br><br><br><br>
<table width='142' border='0' cellspacing='0'
cellpadding='0'>
<tr>
<td height='10'
align='center' class='txtmypet4'><a href='http://www.avenuedogs.com'
class='mypettp4' target = '_blank'>Dogs</a>,
<a href='http://www.mypetoutlet.com/store_catalog/pet_supplies/'
class='mypettp4' target = '_blank'>Pet Supplies</a>, <a
href='http://www.avenuepets.com'
class='mypettp4' target = '_blank'>Pets</a>,
<a href='http://www.mypetoutlet.com/store_catalog/pet_supplies/dog_toys/'
class='mypettp4' target='_blank'>Dog Toys</a></font></td>
</tr>
<tr>
<td
height='10' align='center'
class='txtmypet4'>
<a href='http://www.mypetoutlet.com/store_catalog/pet_supplies/dog_supplies/'
class='mypettp4' target='_blank'>Dog Supplies</a>,
<a href='http://www.mypetoutlet.com/store_catalog/pet_supplies/cat_supplies/'
class='mypettp4' target='_blank'>Cats</a>,
<a href='http://www.simplypetsupply.com'
class='mypettp4' target='_blank'>Pet Supply</a></font></td>
</tr>
</table></td>
</tr>
<tr>
<td
height='10' align='center'
class='petlink06 style1'><span style="color: #64c5d8"><font style='font-size:10px'
face='Verdana,Arial'></font></span><span style="color: #460d7f"><font style='font-size:10px'
face='Verdana,Arial'> My </font></span><a
href='http://www.mypetoutlet.com/' target="_blank"
class='style7'>Pet</a><span style="color: #460d7f"><font style='font-size:10px'
face='Verdana,Arial'> Outlet</font></span></td>
</tr>
</table>





<!-------END_MY_PET_DOG_AWARDS//--------------------------->

<!-- START OF ADDME LINK -->
<a href="http://www.addme.com">Search Engine Optimization - AddMe</a>
<!-- END OF ADDME LINK -->


AddMe.com, Search Engine Submission and SEO
Search Engine Submission & Optimization
This is a ROR formatted XML document describing the resources of the website http://lakeviewbulldogs0.tripod.com/lakeviewbulldogs.htm. For information about the ROR format, go to www.rorweb.com Main Website http://lakeviewbulldogs0.tripod.com/lakeviewbulldogs.htm English Bulldog breeder located in Tecumseh, Ontario (outside Windsor, Ontario and minutes from the Detoit/Windsor border. Puppies available occaisionally. Stud services available. English bulldogs, Bulldogs, Puppies, Bulldog breeder, Stud services Contact Lakeview Bulldogs http://lakeviewbulldogs0.tripod.com/lakeviewbulldogs.htm 519-979-5229 Address 12805 St. Gregory's Rd Tecumseh N8N5A4 Ontario CA SiteMap
<meta name="Keywords" CONTENT="english bulldogs, english bulldog puppies, english bulldog stud services">
<meta name="Description" CONTENT="English bulldog breeder located in Tecumseh, Ontario.
Puppies and stud services available.">
<meta name="Author" CONTENT="Jennifer Meere">
<meta name="robots" CONTENT="index,follow">
<meta name="GENERATOR" content="http://www.isMy.net">